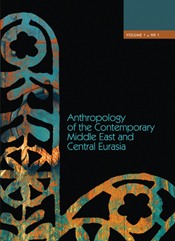 ---
Dunbar's Number

Edited by David Shankland
Occasional Paper No. 45 of the Royal Anthropological Institute.

Dunbar's Number, as the limit on the size of both social groups and personal social networks, has achieved something close to iconic status and is one of the most influential concepts to have emerged out of anthropology in the last quarter century. It is widely cited throughout the social sciences, archaeology, psychology and network science, and its reverberations have been felt as far afield as the worlds of business organization and social-networking sites, whose design it has come to underpin. Named after its originator, Robin Dunbar, whose career has spanned biological anthropology, zoology and evolutionary psychology, it stands testament to the importance of an interdisciplinary approach to human behaviour. In this collection Dunbar joins authors from a wide range of disciplines to explore Dunbar's Number's conceptual origins, as well as the evidence supporting it, and to reflect on its wider implications in archaeology, social anthropology and medicine.

CONTENTS:
Chapter 1: Dunbar's time and human evolution - Clive Gamble; Chapter 2: From there to now, and the origins of some ideas - Robin Dunbar; Chapter 3: From 150 to 3 Dunbar's numbers - Russell A. Hill; Chapter 4: Inclusive hierarchies and the rank-size rule - Matt Grove; Chapter 5: Monogamy and infanticide in complex societies - Christopher Opie; Chapter 6: Untangling causality: multiple levels of explanation for human cognitive Evolution - Robert A. Foley; Chapter 7: Lifting the gloomy curtain of time past: tracing the identity of the first cognitively modern hominin in deep history - S.J. Underdown and S.J. Smith; Chapter 8: Ego-centred networks, community size and cohesion: Dunbar's Number and a Mandara Mountains conundrum - James H. Wade; Chapter 9: About the curious power of dialogue - Esther Goody; Chapter 10: Schizophrenia, evolution and self-transcendence - Simon Dein; Chapter 11: Dunbar's Number(s): constraints on the social world - Robin Dunbar; Contributors; Index.

---
---
Please click here to order paperback.
---
---
OUT NOW!
Lusophone Hip-hop

'Who we are' and 'Where we are': Identity, urban culture and belonging
Edited by Rosana Martins and Massimo Canevacci
This book brings multiple sites of lusophony together, and illuminates how mobile configurations of people, technologies and hip-hop creativities are best understood as compositions of ubiquitous identities, dispersed communities and syncretic networks. Significantly, the chapters highlight identity narratives that clash with the city, yet which play an important part in its reconstruction and resignification. Occupying public space, creative expressions of young people provide critiques of the social order, mainstream media and criminalization of fringe neighbourhoods. In this way, hip-hop has become a political instrument of an 'I' that is excluded and marginalized. Its growth has led to a global movement incorporating local forms such as traditional musical arrangements and native languages. Its messages educate youths about citizenship, addressing their reality of racial discrimination and oppression. At the same time, hip-hop continues to innovate at the street level, constantly rejecting and challenging a consumer culture that seeks to co-opt it.
The pillars of hip-hop - rapping, DJing, break-dancing, graffiti, and now political organization - are considered across three continents, in a collection that seeks to provide more nuanced characterizations of contemporary relationships between lusophone countries allowing dialogue about inter/intra, colonial/racial contradictions and their impact on power structures. Lusophone Hip-hop offers fascinatingly diverse perspectives on rich source material little-known to readers more familiar with hip-hop in African American contexts.
Lusophone Hip-Hop is one of the most exciting books linking contemporary culture to human rights. This work shows how hip-hop in the 'peripheries' of lusophone countries is emerging as an art form in its own right, and, in doing so, is providing hope, meaning and purpose to the young creative artists. Working through non-commercial and commercial networks, this street culture speaks for generations of the dispossessed.
Prof. Colin Samson, University of Essex
An original and innovative approach to new urban cultures, connecting shared experiences which are impregnated with stories of lusophonies.
Prof. Francisco Rui CádimaCádima, New University of Lisbon (NOVA - FCSH-UNL)
I consider this book essential to the vigour of the Fifth Element of Hip-Hop.
Evandro Vieira Ouriques, Director of the Fifth Element of Zulu Nation Portugal
CONTENTS:
Preface - Isabel Ferin Cunha; Acknowledgemenents; Livre no mundo/Free in the world - Sharylaine; Contributors; Introduction: Fragmented connectivity in lusophone diasporic spaces - Rosana Martins and Massimo Canevacci; PORTUGAL: Chapter 1: Representation and the sense of belonging in São Paulo and Lisbon - Rosana Martins; Chapter 2: Graffiti, visual culture and ethnicity: The black neighbourhood of Kova da Moura - Ricardo Campos; Chapter 3: Spaces of representation: Identity, otherness and transformation in Portuguese hip-hop - Teresa Fradique; Chapter 4: The sampling of Lisbon: Hip-hop and the lusophone imagination - Jorge de La Barre; BRAZIL: Chapter 5: B-boys (Rio de Janeiro) and rappers (Lisbon) in search of recognition: A brief comparison - Otávio Raposo; Chapter 6: PiXação: In praise of the strength and 'useless' beauties of Brazilian youth - Gustavo Coelho; Chapter 7: 'Manos e Minas': The TV show - Claudia Garrocini; Chapter 8: Urban quilombo: Maranhão's hip-hop, periphery and Africaness - Ana Stela Cunha and Rosenverck Estrela Santos; Chapter 9: 'Os anos de chumbo': Grupo Tupinãodá and the possibilities of street art for resistance - Holly Eva Ryan; AFRICA: Chapter 10: Chronotope identification in Kriolu rap - Derek Pardue; Chapter 11: Rap and the representation of public space in Praia City - Redy Wilson Lima; Chapter 12: Who has the word? MC Azagaia's intervention into past and politics in Mozambique - Anna Pöysä and Janne Rantala; Chapter 13: Hip-hop in Angola: Social intervention rap - Gilson Lázaro and Osvaldo Silva; Chapter 14: From the radios to the stage: Juvenile political participation and dissent through rap - Miguel de Barros; Conclusion: Performative metropolis: Self-representation, expanded codex, digital culture, trans-urban subject - Massimo Canevacci; Index


Rosana Martins is a Research Associate at the Research Centre for Media and Journalism at the New University of Lisbon (NOVA), and at the Research Centre for Educational Cybernetics and Digital Language Laboratory, at the University of São Paulo.


Massimo Canevacci is Professor of Cultural Anthropology at the University of Rome 'La Sapienza' and Visiting Professor with the Edward Said Chair (UNIFESP) at the University of São Paulo.


Hardback, ISBN 978-1-907774-12-6, £65.00 (GBP), $100.00 (USD)

---
---
Please click here to order paperback.
---